Well, if being a hauntologist was a job (which I suppose at times it is in terms of creating and releasing records etc) then The Delaware Road at Kelvedon Hatch event on 28th July 2017 could be considered a hauntological jolly or a works outing.
(If you should not know "jolly" is a now rarely used and possibly old fashioned phrase that means a holiday or break and which now seems to refer to previous eras and ways of doing such things).
Possibly by the nature of it, it is more a hauntological working day out than strictly speaking purely r'n'r.
And just as with all good jollys, they've even hired a charabang to get you there.
The venue is not quite your normal, common or garden establishment:
"The Kelvedon Hatch Secret Nuclear Bunker at Kelvedon Hatch, in the Borough of Brentwood in the English county of Essex, is a large underground bunker maintained during the cold war as a potential regional government headquarters. Since being decommissioned in 1992, the bunker has been open to the public as a tourist attraction, with a museum focusing on its cold war history."
The event has been put together by Buried Treasure Records, which is a UK label UK "specialising in archived electronic, tape, radiophonic, jazz, psych, folk & library sounds" and which put out the rather intriguing The Delaware Road album, of which this event is an extension of.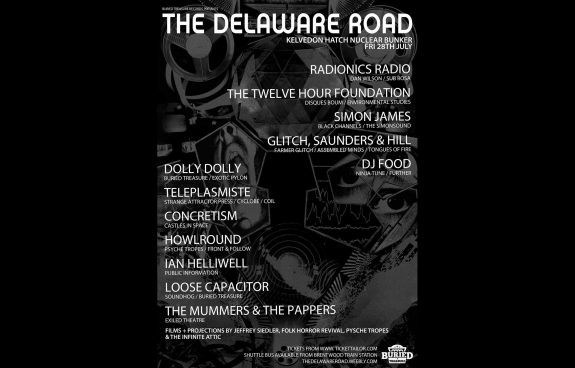 The event and its themes are described as:
"An occult conspiracy exploring a secret, abandoned Britain.
"London, 1968. Two brilliant musicians create innovative sound using reel to reel tape. Whilst working for a large media organisation they stumble upon a conspiracy with seismic implications for themselves and for Britain. Exploring folklore, magic, propaganda, television & radio broadcasting, counter-culture & early, electronic music, The Delaware Road is an incredible, alternative vision of Britain during the second half of the 20th century.
"This special performance takes place deep underground in a nuclear bunker, hidden in remote Essex woodland. The audience is free to explore the secret, cold war facilities where they will encounter a host of performers, experimental artists & musicians. This immersive mix of theater, film & live music will appeal greatly to fans of classic British science fiction & horror such as Quatermass, Dr Who, The Devil Rides Out & The Wicker Man."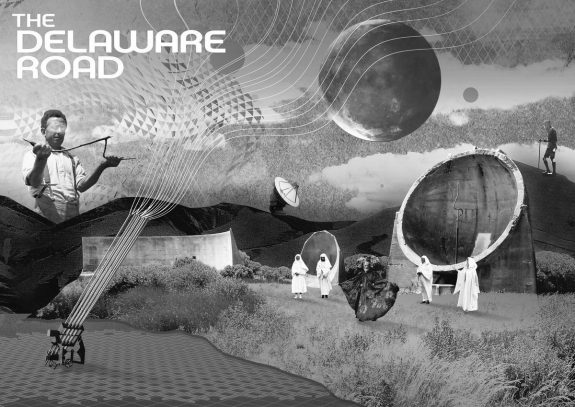 (As an aside this poster puts me in mind of Kate Bush's Cloudbusting video, Peter Reich's A Book Of Dreams which inspired it and related fringe religious/science explorations.)
The night will feature performances by DOLLY DOLLY, HOWLROUND, TELEPLASMISTE, RADIONICS RADIO, IAN HELLIWELL, GLITCH, SAUNDERS & HILL, CONCRETISM, SIMON JAMES, THE MUMMERS & THE PAPPERS, THE TWELVE HOUR FOUNDATION, LOOSE CAPACITOR and DJ FOOD, with films & projections by JEFFREY SIEDLER, FOLK HORROR REVIVAL, PSYCHE TROPES and THE INFINITE ATTIC.
Blimey, what a lineup (including some AYITC sometimes travellers) and one which could be filed alongside the first Further event at the Portico Gallery, which will also features Howlround, in terms of exploring particular strands of spectrally related culture.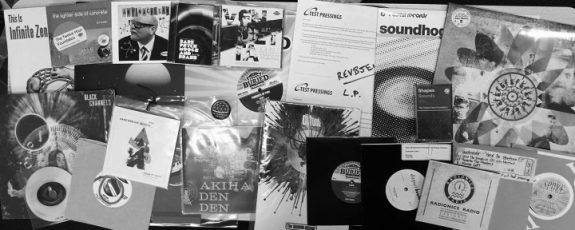 There was a Survival Kit auction in aid of Resonance FM which featured numerous records, prints etc from those taking part. That has now been bought/won but the related special edition of the OST show is still available to listen to.
If your fears about Cold War dread have abated enough to take this particular subterranean trip then I expect this will be a fine and unique evening out (or under, as it were).
(File under: Other Pathway Pointers And Markers)
Destinations and Directions:
Tickets
Buried Treasure
The event's Facebook Page
The Delaware Road At Kelvedon Hatch Audio Apocalypse Survival Kit on OST & via DJ Food
The auction for the Survival Kit
What Is The Delaware Road?