Well, for folk who don't happen to live near a bricks and mortar record shop, it was good to see Finders Keepers Records 2017 Record Store Day release Valerie And Her Week Of Wonders 7″ release available to buy/stream at Bandcamp and their website.
The EP is released ten years since they originally released the soundtrack and is said to contain:
"…further unreleased variations, vocal tracks and newly resurrected themes from the original master tapes of composer Luboš Fišer."
Here at A Year In The Country we have something of a softspot for the fantasias of Czech New Wave films such as Valerie And Her Week Of Wonders, Daisies and Malá Morská Víla (which influenced Jane Weaver's The Fallen By Watch Bird album, that was an early point of reference and inspiration for AYITC).
The soundtrack to Valerie And Her Week Of Wonders is a particular favourite and each time I hear the Main Theme I seem to transported to some other place, it conjures a sense of its own world, of belonging to some parallel place and time.
Along which lines…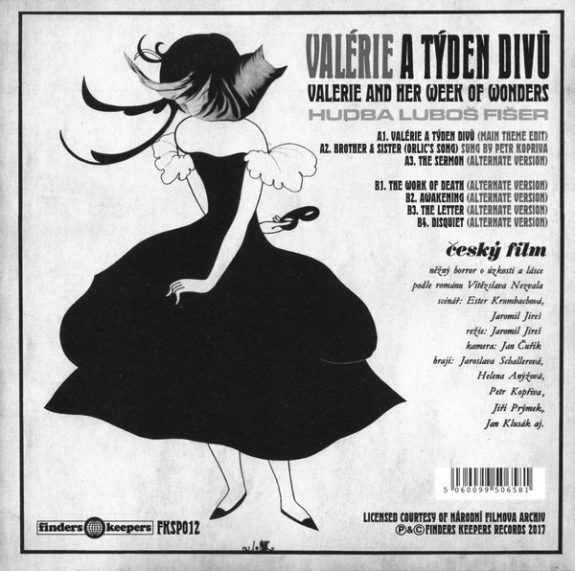 The soundtrack has been mentioned as an influence on both Broadcast and Espers and it could almost be a tumbling backwards and forwards through time to their work, both of which could be said to create and weave their own worlds.
Listening to these new tracks, I also thought of Cat's Eyes' soundtrack to The Duke Of Burgundy and its soundtracking of its own particular imagined European pastoral hinterland…
So, without further ado…
Audio Visual Transmission Guide:
Valerie And Her Week Of Wonders 7″
(File Post Under: Cathode Ray & Cinematic Explorations, Radiowave Resonations & Audiological Investigations)