File Under: Trails And Influences / Year 2 wanderings
Talking of non-populist work in a populist framework (see here)… Edge Of Darkness, 1985.
When I recently re(rere? rerere?) watched this, a comment by Dennis Potter – by way of Mark Fisher – seemed to become somewhat stuck in my mind, about how successful the "occupying forces of neo-liberalism" had been, in reference to changing and controlling the landscape, freedoms and concerns of mainstream television / culture.
Now, I can enjoy work that is purely intended to be entertainment or escapism, no problems with that but I find Edge Of Darkness particularly interesting as it shows that exploratory, nuanced, layered, politically engaged television can be just as entertaining as more purely escapist work.
Also, that it can be just as popular with viewers and with critics (4 and then 8 million viewers on its first and then quickly repeated runs and 6 wins / 11 nominations at the BAFTAs).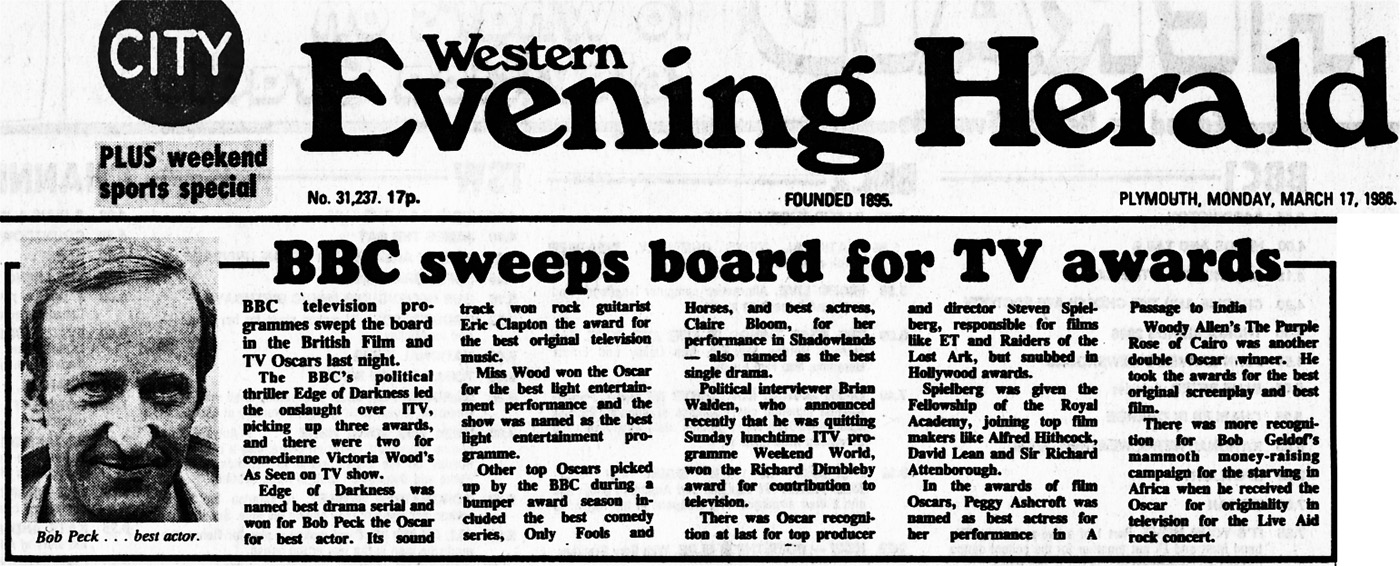 As a very brief precis it concerns a police detective whose daughter is killed, who when he attempts to investigate this is drawn into the very depths and heights of a swirling vortex of state, hidden state, political and business duplicity/scheming, both above and literally below the land (Boschian is a phrase that comes to mind). I shall not say more in case you haven't seen it…
It puts the lie to the sense of the eighties as being a time purely of lightweight froth of a certain type or types and the omnipotent rise of a Milk Snatcher-esque view of the world.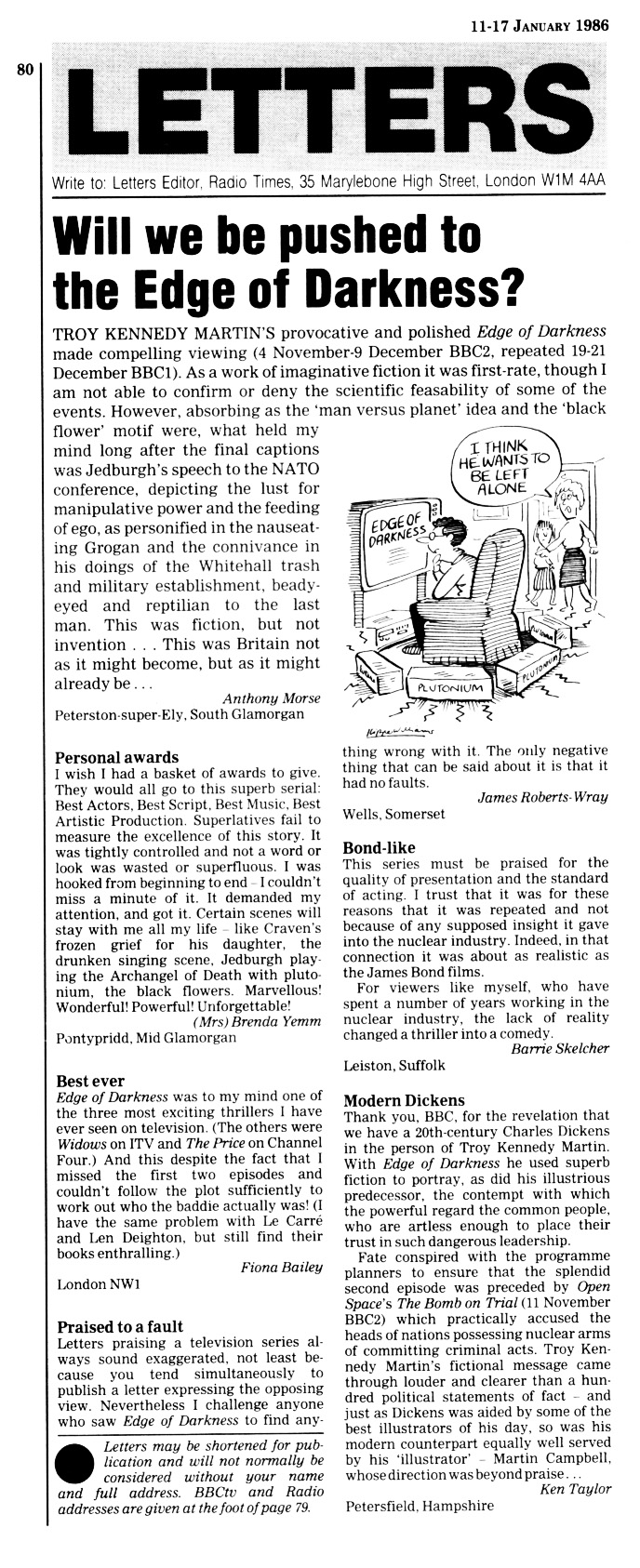 Edge Of Darkness, along with fellow companions such as The Singing Detective and The Monocled Mutineer from a similar time*, shows that era more as one that was sparking with rearguard actions against those "occupying forces".
(*All of which seemed to somewhat blow a young-ish mind and make it think "Ah, this is what television can do/be.")
The world it presents looks very real, lived in, almost dour at points and in pallette but also it is flaring with vivid dark undercurrents. In a way it shows a very sleazy world that the lead character Craven steps into – or maybe he had always been there but just in a more day-to-day, prosaic manner than this.
Although it has been described as an eco-thriller, I actually think it's quite hard to strictly define it in terms of genre or to say precisely what its political stance is; there is a strong sense of it being anti a kind of nuclear despotism but this isn't a didactic, hectoring piece. It is more work that is densely steeped in the ambiguities, corruption and shifting standpoints of that earlier mentioned vortex.
It is also a very human, at time tender tale that takes in the love for and commitment to family. Decency is another word that comes to mind.
And with decency in mind, in some ways it travels from a more conventional, almost noirish lone-wolf / knight in armour tale and descends into some form of madness, perhaps one which reflects the participants states of mind and the worlds in which they are stepping or working.
An almost final scene where conspirators and those who battled against them are shown dining and quaffing together reminded me of the end of Animal Farm, where those who rose up can nolonger be told apart from those against who they rose.
Squabbles seem to be put to one side during an almost hallucinatory hellish oligarchical meal.
By the end of things, there is little sense of things having been resolved, although it is cathartic to a degree and leaves one with some kind of sense of hope.
It also made me think of Sapphire and Steel; another example of non-populist work within a populist framework, wherein not everything is thoroughly explained, tidied and neatened up for its audience but wherein fairly visionary, unique tales are also rather entertaining and gripping television.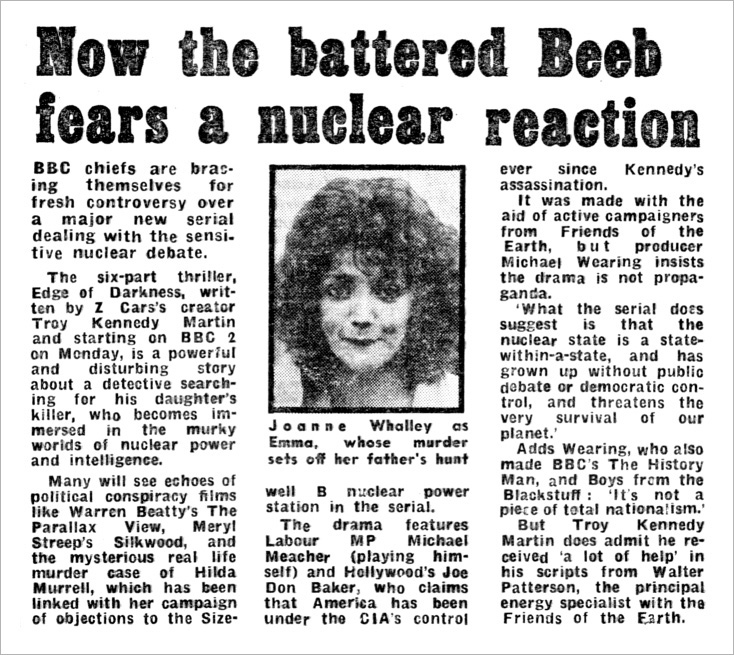 And just as with Sapphire and Steel, by the end there is a sense of having been betrayed by your own side in some way or at least the landscape and chessboard within which you have been operating has been quietly reshuffled and reorganised behind the scenes in order to suit the needs of those within the hierarchy.
Peruse Edge Of Darkness further here and here.
A home in the ether: one of those rare places in amongst the zeros and ones that you come across that have survived the mayfly-like spans of such things and which already seem to belong to another age entirely can be found here.