Pre-order available today 7th November 2017. Release date 28th November 2017.

Artifact #6a
Featuring United Bible Studies, Circle/Temple (Dom Cooper of The Owl Service/Bare Bones/Rif Mountain), Magpahi, Cosmic Neighbourhood, Field Lines Cartographer, Polypores, A Year In The Country, Sproatly Smith, Pulselovers, The Hare And The Moon & Jo Lepine (The Owl Service), Time Attendant and The Séance (Pete Wiggs of Saint Etienne and James Papademetrie).
All The Merry Year Round is an exploration of an alternative or otherly calendar that considers how traditional folklore and its tales now sit alongside and sometimes intertwine with cultural or media based folklore; stories we discover, treasure, are informed and inspired by but which are found, transmitted and passed down via television, film and technology rather than through local history and the ritual celebrations of the more longstanding folkloric calendar.
However, just as with their forebears there is a ritualistic nature to these modern-day reveries whereby communal or solitary seances are undertaken when stepping into such tales via flickering darkened rooms lit by screens, although their enclosed nature is in contrast to more public traditional folklore rituals.
Accompanying which with the passing of time some televisual and cinematic stories continue or begin to resonate as they gain new layers of meaning and myth; cultural folklore that has come to express and explore an otherly Albion, becoming a flipside to traditional folklore tales and sharing with them a rootwork that is deeply embedded in the land.
In amongst All The Merry Year Round can be found wanderings down such interwoven pathways, travelling alongside straw bear and cathode ray summonings alike.
Available via our Artifacts Shop, our Bandcamp Ether Victrola and at Norman Records.
Dawn Edition £11.95. Night Edition £24.95.
Both editions hand-finished and custom printed using archival giclée pigment ink by
A Year In The Country.

Tracks also previewable at Soundcloud.
Dawn Edition. Limited to 104 copies. £11.95.
Hand-finished white/black CDr album in textured recycled fold out sleeve with inserts and badge.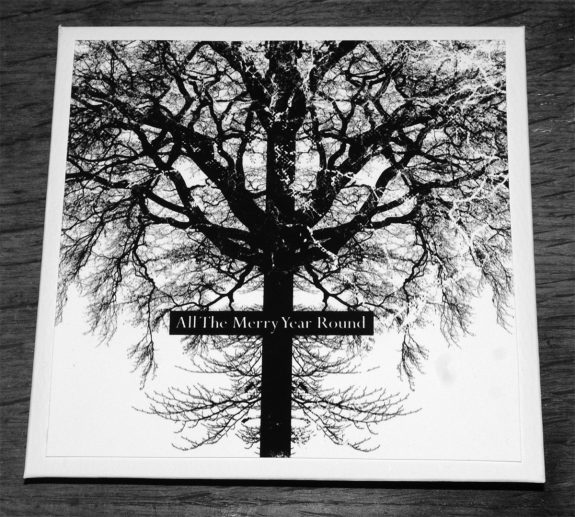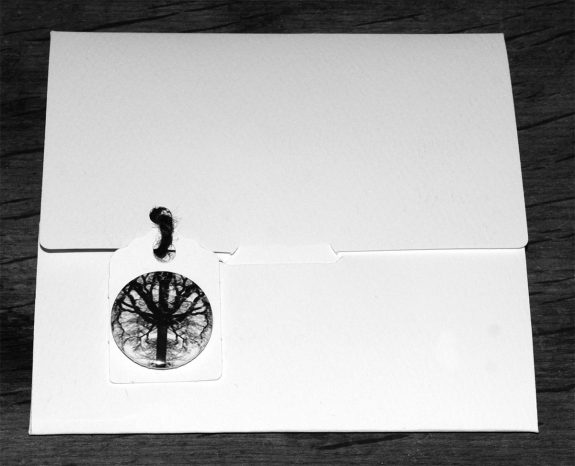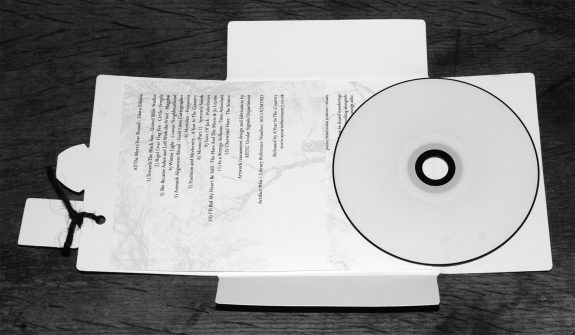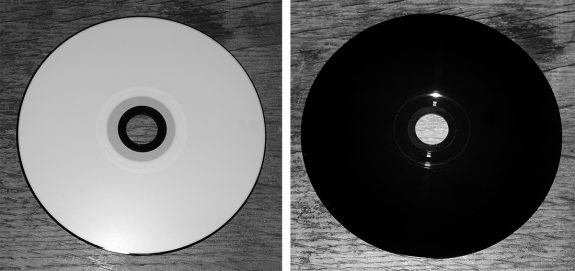 Top of CD.                                                          Bottom of CD.
Further encasement details:
1) Custom printed using archival giclée pigment ink.
2) Includes 25mm/1″ badge, secured with removable glue on string bound tag.
3) Back of one insert hand numbered.
Night Edition. Limited to 104 copies. £24.95.
Hand-finished box-set contains: album on all black CDr, 12 page string bound booklet, 4 x badge pack, 4 x stickers, 1 x large badge.
Further encasement details:
1) Booklet/cover art custom printed using archival giclée pigment ink.
2) Contained in a matchbox style sliding two-part rigid matt card box with cover print.
3) Fully black CDr (black on top, black on playable side).
4) Black string bound booklet: 12 pages (6 sides printed);
Printed on textured fine art cotton rag paper, heavy card and semi-transparent vellum.
Hand numbered on the reverse.
5) 4 x badge set, contained in a see-through polythene bag with a folded card header.
6) 1 x large badge.
7) 2 x square and 2 x round vinyl style stickers.

Tracklisting:
1) Towards The Black Sun – United Bible Studies
2) Rigel Over Flag Fen – Circle/Temple
3) She Became Ashes and Left With the Wind – Magphai
4) Winter Light – Cosmic Neighbourhood
5) Azimuth Alignment Ritual – Field Lines Cartographer
6) Meridian – Polypores
7) Tradition and Modernity – A Year In The Country
8) Moons (Part 1) – Sproatly Smith
9) Tales Of Jack – Pulselovers
10) I'll Bid My Heart Be Still – The Hare And The Moon & Jo Lepine
11) In a Strange Stillness – Time Attendant
12) Chetwynd Haze – The Séance
Artwork/encasment design and fabrication by AYITC Ocular Signals Department
Artifact #6a / Library Reference Numbers: A011ATMYRD / A011ATMYRN