Trails and Influences: Electronic Ether. Case #11/52.
Well, that should probably be Anthromorphic Leporids (the rabbit family), the occasional companion and a possible interloper…
There is something unnerving about bunny/rabbit masks on a human. I'm not quite sure why.
When I see rabbits/hares in the wild (or the occassional time I've seen them bounding around inside a home), there is a a surreal air to them, again I'm not quite sure why.
Maybe those Adventures of Alice in Wonderland that I read/watched back in childhood have set down deeper roots than I think… the waistcoated, time keeping rabbit (and associated rabbit holes) is such an iconic character and theme.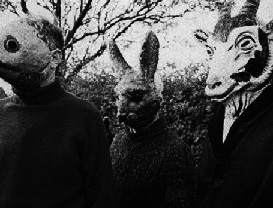 The Wickerman (yes, that again) probably hasn't helped lessen such things… see image to the left, from the film…
…which coincidentally for quite a while was the only photograph of Sproatly Smith (see Days #85, #92, #101 of A Year In The Country) that I'd seen. Well, not that it was of them but that was the only photograph they had put forth into the world.
Hmmm.
Most of these images are gleaned from a collection in the ether by Becky Wells*. I'm not sure where they are originally from and whether some of them are her own work. The collection errs towards the more gothic/creepy side of folkloric and related imagery. Tread gently…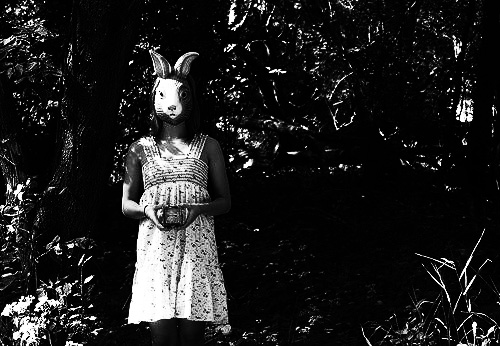 *All images are via Becky Wells except the above trio of faceless rabbits which is by Nadja Jovanovic, which puts me in mind of 1970s genre fiction paperback covers by way of vintage East European cinema poster art…
Talking of such genre fiction, I expect an interest in things otherly was propagated in part by being left alone with an uncle's collection of such 1970s science fiction paperbacks on family visits as a child, books which endlessly fascinated me with their visions and promise of fantastical worlds; I would try to plough through and read at probably too young an age to be able to fully take in their concepts but the stories of which seemed to have stayed with me over the years.
Looking back I think many of those books were possibly from a point at which science fiction often seemed to be an expression of/lean towards the counter culture and non-mainstream thinking rather than being strictly standard genre fare, including classics by those such as H.G. Wells in that collection which often dealt with social problems, divides etc from a liberal/progressive perspective.
Hmmm again.