The From The Furthest Signals album has been a-wandering (transmitting?) to various places of late including:

Time Attendant's The Dreaming Green and Keith Seatman's Curious Noises and Distant Voices were played on The Gated Canal Community Radio show, which is put together by the record labels Front & Follow and The Geography Trip and hosted by Reform Radio. Visit the show here.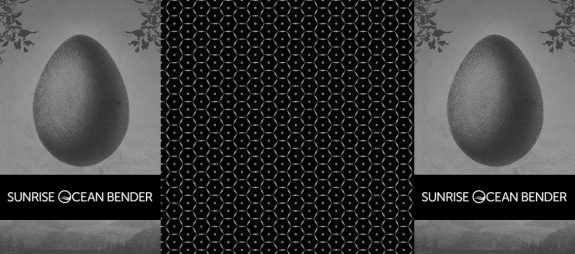 Grey Frequency's Ident (IV), Keith Seatman's Curious Noises & Distant Voices, Pulselovers Endless Repeats/Eternal Return and Listening Center's Only The End Credits Remain have made appearances on the Sunrise Ocean Bender radio show, which was originally broadcast on WRIR FM. Visit those episodes here and here.

Circle/Temple's The Séance/Search for Mussel-Light was included on Flatland Frequencies radio show, original broadcast on Future FM. Visit that here (where there is also some rather fine 1972 Flamenco Moog introductory music).

While Time Attendant's The Dreaming Green, Polypores Signals Caught Off The Coast and Listening Centre's Only The End Credits Remain were featured on an episode of the More Than Human radio show, originally broadcast on CTR FM. Visit that here.
And then to some of the From The Furthest Signals reviews…

"Pulselovers whose 'endless repeats / eternal return' is adored in a twinkle toned orbital phrasing all shepherded and harvested upon a delicately whirling crystal cut sepia fantasia. Listening Center draws this latest report to a close with the aptly titled 'only the credits remain', a beautifully serene and widescreen cosmic sea spray dimpled in sleepy headed dream drifts, utterly touching and tender, need I say more."
Mark Losing at The Sunday Experience

"It's a gloriously uneasy listen, as likely to creep up with folk guitars and disconnected voices (Sproatly Smith's "The Thistle Doll") as it is to hiss softly on the edge of your consciousness while distant choirs howl at the stars (A Year in the Country's "A Multitude of Tumblings")."
Dave Thompson at Spincycle/Goldmine magazine

"This is an excellent collection, one of the best to date from A Year In The Country with pieces ranging from the folk-oriented balladry of Sproatly Smith to the deteriorating electronics of Grey Frequency. The album ends with a number by Listening Center, Only The Credits Remain, whose weightless harmonies wouldn't be out of place on Apollo by Brian Eno & Daniel Lanois."
John Coulthart at feuilleton

"The desolate chorale of Sharron Kraus's Asterope sounds like the theme from Children Of The Stones has relocated to a far-flung, empty asteroid. The sublimely eerie The Thistle Doll from Sproatly Smith is probably the best track, sounding like it's been partly taped-over with something you can't quite make out, while the cosmic reel of The Hare And The Moon's gorgeous Man Of Double Deed manages to be both crisply nearby and airily distant sounding."
Martin Ruddock at We Are Cult

"Tra i partecipanti a "From The Furthest Signals", oltre ad habitué quali David Colohan, Time Attendant, Sproatly Smith, The Hare And The Moon, compaiono anche le sinuose modulazioni vocali di Sharron Kraus e le sature correnti droniche di Pulselovers, tutti partecipi di una incessante ricerca di A Year In The Country, da autentici rabdomanti del suono."
Rafaello Russo at Music Won't Save You

"This music creates a world of its own which could be viewed either as defiantly anachronistic or as an example of cutting edge experimentalism… Either way, any attempt to quantify it in terms of modernity or tradition seems redundant or to miss the point. Better to think of as chronologically challenged and revel in its strangeness."
Whisperinandhollerin

And in a rounding the circle manner, the album is featured at the Violet Apple website, which is dedicated to the life and works of author David Lindsay. Visit that here.
Tip of the hat to everybody concerned. Much appreciated.
From The Furthest Signals takes as its initial reference points films, television and radio programs that have been in part or completely lost or wiped during a period in history before archiving and replication of such work had gained today's technological and practical ease.
Curiously, such television and radio broadcasts may not be fully lost to the wider universe as they can travel or leak out into space and so may actually still exist far from their original points of transmission and places of creation, possibly in degraded, fractured form and/or mixed amongst other stellar noises and signals.
The explorations of From The Furthest Signals are soundtracks imagined and filtered through the white noise of space and time; reflections on those lost tales and the way they can become reimagined via hazy memories and history, of the myths that begin to surround such discarded, lost to view or vanished cultural artifacts.
The album features audiological explorations by Circle/Temple, David Colohan, Sharron Kraus, A Year In The Country, Time Attendant, Depatterning, Field Lines Cartographer, Grey Frequency, Keith Seatman, Polypores, The Hare And The Moon, Pulselovers and Listening Center.
More details on the album can be found here.
Clips from the album can be previewed at Soundcloud and it can be ordered at our Artifacts Shop, Bandcamp Ether Victrola and Norman Records.