The first in something of a recalibration of this particular year of A Year In The Country…
This strand of AYITC posts takes inspiration from the signs and signposts that you might see on country walks along for example what were once railway tracks: signs that may say something along the lines of "This way towards…" and point you in the direction of a particular feature or place of interest.
Or the signs you may find at the places themselves, which are often accompanied by a brief description or history of the destination and sometimes accompanied by a photograph or two.
(Sometimes those signs have quite extensive history and information on them and I expect knowing myself as I do, this stand of posts may sometimes be little or a fair bit more than brief and have a photograph or few…)
Another reference point and inspiration for this strand of posts would be the sometimes whitewashed, naturally shaped or rough hewn stone markers that you still occasionally see at the side of a road or path out in the country, ones that have something along the lines of "London – 145 miles" hand painted and/or carved into them.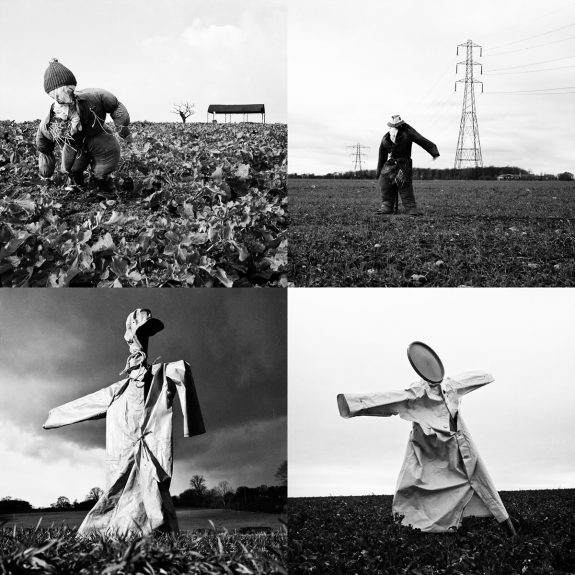 So, without further do, Peter Mitchell's Some Thing means Everything to Somebody book, published by RRB Photobooks Publishing.
"…an autobiography told through inanimate objects silently observed by scarecrows. Some Thing means Everything to Somebody boldly marks the passing of time by weaving images of these surreal totems in the landscape amongst those of objects with sentimental value."
If the folkloric costumed creatures in Charles Fréger's Wilder Mann book had fallen through a folk-horror portal or arrived via a lost episode of 1970s Doctor Who to become creatures that were both alive and inanimate in the British countryside, well, they may well look like the scarecrows in Peter Mitchell's photographs.

(File under: Other Pathway Pointers And Markers)
Destinations and directions:
The Some Things means Everything To Somebody book.
The Some Things means Everything To Somebody postcard book.