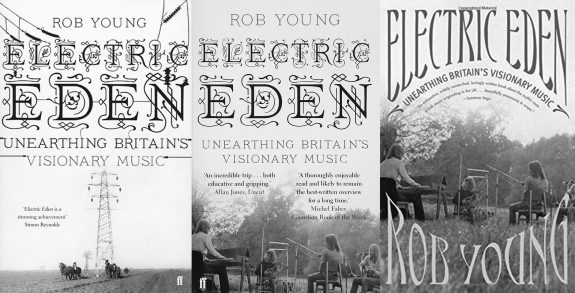 Rob Young's Electric Eden has been something of an ongoing reference point for A Year In The Country. It's a monumentally comprehensive exploration of what he describes as "visionary music", and related culture, which wanders from pastoral literary utopias to acid folk via hauntology, Kate Bush and beyond.
In terms of more contemporary culture (as opposed to films and television etc I first became aware of in the 70s and 80s), I first read this book by Rob Young when my plans for A Year In The Country really began to coalesce. The way it drew connections between different aspects and eras of folkloric, landscape orientated and spectrally hauntological culture was a notable inspiration for me and A Year In The Country. As indeed was the cover of the first edition (above left), with its mixture and intermingling of the old and the new in its photograph of traditional horse-drawn ploughs in a field overlooked by an electricity pylon. It's a very evocative image in the way it implies the layering and permeable nature of traditions, technology, history and so on.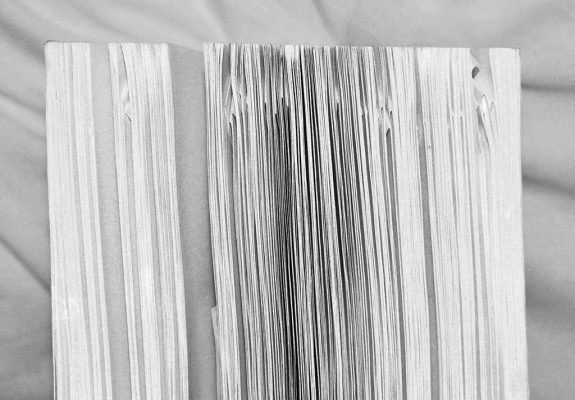 In the first post about the book during the first year of A Year In The Country I included the above photograph of my copy. It shows all the corners I'd folded of the book, which after I'd been reading it for a while I often did to indicate that there was something I was particularly interested in on those pages. Some sections of the book seem to have more folds than not (!), which is something of an indication of just how much of interest I found much of the book.
It's now heading towards a decade since it was first published and I read it, and I still find myself picking it up and referring to it, following the lines it draws and pathways it follows and/or creates amongst a loosely interconnected cultural landscape.
The original post published during the first year of A Year In The Country: