File under: Trails and Influences: Recent Explorations.
Case #35/52.
It was interesting stepping back to a high-water mark of earlier interest in all things spectral and hauntological via Simon Reynolds Haunted Audio article in Wire magazine…
This was a time when the (non)genre (see Day #162/365) of hauntology hadn't fully settled on a name yet and there were a few such things being bandied around; eldritchonica, sampladelia, memoradelia and the like, something which this article considers.
These other names would come to be but placeholders, in I suppose a not dissimilar way that the gothic subculture and bands were initially tagged with the label positive punk – a phrase which has now been passed largely to the footnote of footnotes of history.
The article is a consideration of some of the history, prime purveyors and interconnected cultural workers who have sent what was then coming to be labelled hauntological out into the world; it takes in Ghost Box Records, the re-archiving tendencies of Jonny Trunk, the magpie-isms of Mordant Music and predecessors such as Position Normal, Boards of Canada and the work of the Radiophonic Workshop alongside philosophical considerations of the unearthing of the past via sampling and the tendency within such work to "look forward to the past".
In a way it acts as an early primer for all things spectral.
And also it is the seeding for Simon Reynolds chapter on such things, Ghosts Of Futures Past: Sampling, Hauntology and Mashups, in his book Retromania.
One of the things that struck me within the article was that you could see the roots of the frustration with an endless cycle of disinterring pop cultures past and his books confrontation of "a central paradox of our era… we're empowered by mind-blowing technology, but too often it's used as a time machine or as a tool to shuffle and rearrange music from yesterday" (from the back cover of the book).
Now, when I listen to "young people's music" and it' songs appear to be overly faithful replications of a band from the past that I can't quite place, all done with a very sharp eye for the details of that reproduction, well I tend to find myself wandering off pretty quickly.
But then such music probably isn't particularly aimed at or intended for personages of my particular age. Bands from my younger days often sounded not too dissimilar to bands that had come before but I didn't yet know about the predecessors.
And it didn't matter. I still found this newly recorded music to be vital, something to share, live and love amongst.
Maybe at the moment pop culture's forward movement isn't in the form of distinctive, well-defined new aesthetics, chronologically arranged and advancing. Maybe it is more taking the shape of methods of transmission and transference (ie via the ever multiplying avenues for sending out zeros and one encased audiological work, its corporeal equivalents and the endless nattering, chattering and discussing about such things in amongst the ether).
To semi-quote Billy Childish (who can also be found in Retromania) – novelty is over rated.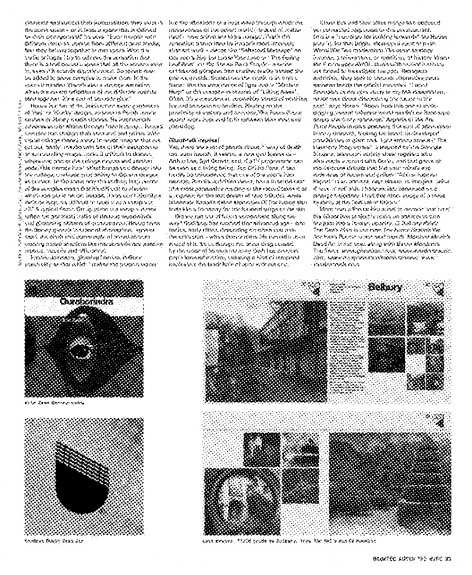 In some ways the hankering after more clearly delineated times gone by when rock'n'roll became mod became psychedelia became glam became punk became new romantic and cultural access and its bandwidth was much more limited can be a variation on "Bah, humbug, what's all this modern racket, it was all better in my day you know".
Alongside which in some ways it can also seem like obscure(ish)=good, popular=bad in such debates. Or in a a similar equation obscure(ish) releases=cool/acceptable, more mainstream releases=look away. And so say the eighties looking pop-heard-through-a-bedroom-wall experiments of say Aerial Pink are allowed/appreciated but something which seems in part like an art project reimagining of certain American cultural representations of 1980s high school archetypes (by way of a flipside of the work of John Hughes) such as She Wants Revenge probably wouldn't be.
It is curious how such things happen. Anyways…
This sense of good/bad retro is something that Simon Reynolds acknowledges/considers within Haunted Audio and Retromania's discussion of the idea of "good retro" (the more spectral inclinations of Ghost Box Records and the like) vs "bad retro" (more mainstream pilfering of the past, that removes any sense of the uncanny in such burrowing and borrowings).
An interesting point Simon Reynolds made as a guest on an airwaves broadcast hosted by Jarvis Cocker, which was a kind of Retromania special, is that maybe say a particular era's aesthetic style is the best way of conveying particular things, stories and emotions.
To a certain degree this endless looking to the past and borrowing/recycling what is found there may be just a side effect of technology changes and a time when the resulting access to the recorded artifacts from different eras has meant that culture has become increasingly atemporal.
This just wasn't the way of the world not all that long ago.
Again, in my younger days it was necessary to endlessly trawl through second-hand shops and what our cousins over the seas call thrift shops to find even a glimpse, a hint of certain previous audio releases.
Such was the scarcity of certain areas of earlier culture that I still think of a particular of such places as quite magical because I once found a 7″ sent forth by él Records in there, despite never finding anything else of interest to my good self.
And looking back, él Records were resolutely retro in their inclinations but they referred back to a time that never quite existed, they created a world which was a time and place of who knows where and when.
Something that as a label they could be said to share with the likes of Ghost Box.
And maybe that is part of the lesson for such things and the thoughts on this particular page; disinterring is all good and fine but effectively pressing pause to freeze frame and exactly replicate the past is likely to lead to something that lacks a little in life blood as the years go by.
Hmmm…
Peruse the article in the ether here. Via archived sheaths here.
Mr Reynolds in the ether here and here. The aforementioned book of bound sheaths here.