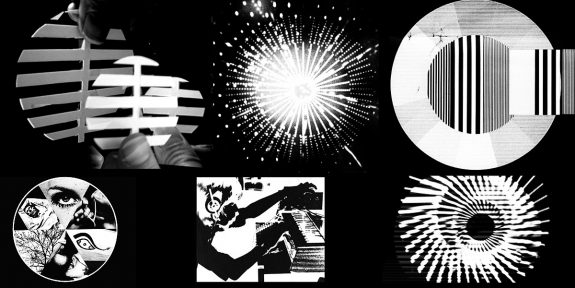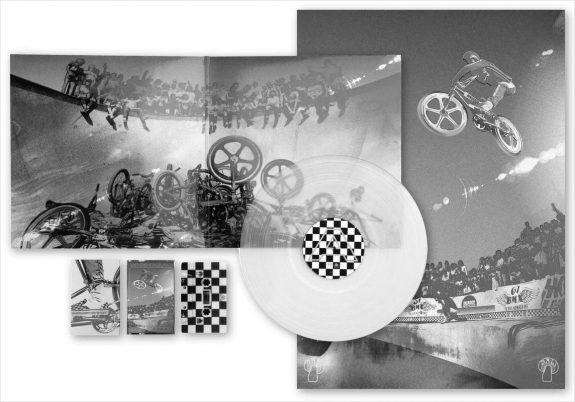 Just as "traditional" hauntology often reimagines the culture and era of the 1960s and 1970s in Britain and creates its own parallel world version of them, the likes of synthwave and hypnagogic pop carries out a similar hazy misremembering and reimagining of the 1980s.
Although not strictly connected to those cultural groupings/genres, D.A.L.I.'s album and art/design project When Haro Met Sally (2018) draws from and explores some similar tropes and reference points and creates its own parallel world version of the 1980s.
The project's title is taken from both the iconic 1980s romantic comedy When Harry Met Sally and one of the kings of BMX freestyle in the 1980s, Bob Haro.
D.A.L.I. takes its name from the initials of it creators, Luke Insect and Deadly Avenger.
Luke Insect is a renowned graphic designer, who as Twins of Evil has collaborated with illustrator Ken Goodall on artwork for Ben Wheatley's darkly pastoral Civil War set film A Field in England (2013), the vinyl album artwork for the soundtrack of his crime/romance/sort of camping holiday horror film Sightseers (2012) and the Arrow Blu-ray release of Robert Altman's darkly gothic bucolic Images (1972).
Deadly Avenger is Damon Baxter, who has been releasing music since the mid-1990s, when he was associated with the music/cultural groupings big beat and triphop/downbeat, including singles/EPs on Wall of Sound and D.C. Recordings.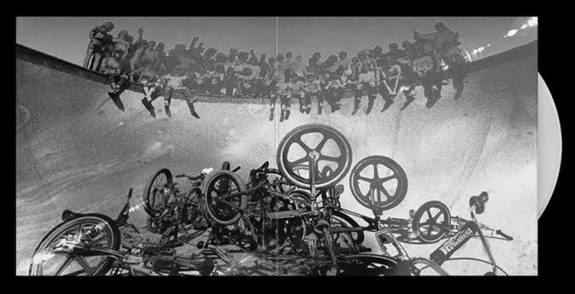 "Traditional" hauntology's reimagining is in part an expression of a collective mourning for lost progressive futures in a wider social, economic and political sense, while in When Haro Met Sally's 1980s orientated project there is more a sense of a yearning for and attempting to recapture a more personal orientated day-to-day lost, carefree, colourful and vibrant time in life, history and culture.
Connected to which Luke Insect has said the following:
"We're both kids of the 80s and When Haro Met Sally is our nostalgic love letter to that whole period of our childhood, a 1984 set BMX break up album about teenage love, endless summers and chrome!"
The project appears on an initial casual viewing to spring from an imagined cultural landscape rooted not so much in reality but rather one that takes inspiration from a mid-1980s Hollywood presentation of teenage life which has become a symbolic archetype of the time – a seamless vision of the latter days of American high school meets frat parties fun in the sun frolics that only stops to take in a visit to the video games arcade and the mall, all soundtracked by period synthesized pop.
However, as in much of writer and director John Hughes' classic cycle of teenage films (Sixteen Candles, The Breakfast Club, Weird Science, Pretty in Pink, Ferris Bueller's Day Off and Some Kind of Wonderful, released 1984-1987) all is not purely rosy in When Haro Met Sally's world; life is shot through with the angst and trouble of heartbreak and in reality this is an imagined dreamscape and accompanying promotional text shatters its bubble:
"Del Mar Skate Park, California, Summer '84. Blinding sun hits chrome sending rainbow prisms across hot asphalt. There's a buzz in the air. Teenage dreams and dope smoke mix with the Pacific breeze. Boy meets girl. Girl meets boy. This summer's never gonna end. Tricks are being pulled and moves are being made that these crowds have never seen. Even the wood-pushers are blown away. Seeds sewn a decade ago by Todd and Devin Banks on Overland Drive have come to fruition.
Dominguez is up next, he's 15, and hitting 6 feet of air. Then it's Gonzalez. And Vanderspek. This is going down in history. Except this isn't the West Coast of America. And the sun's not shining. These are the grey suburbs of Leicester and London. And our BMXs are sh*t.
When Haro Met Sally is the soundtrack to one seemingly endless summer, when teenage heartbreak ruled supreme, everything American seemed cool, and all we did from dawn 'til dusk was dream about girls and ride our bikes Spanning early 1980s VHS soundtracks, teenage electro, heartbreak synths and Italo Disco, When Haro Met Sally will transport you back to that endless sun-baked teenage summer… that none of us ever had."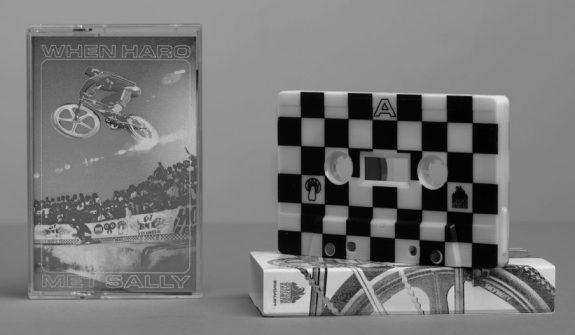 That acknowledgement of the fourth wall and the unreality of this cultural landscape, alongside the hyperreal dreamlike colours of the project's artwork, the sometimes Boards of Canada or VHS-esque oscillating/tape wobble characteristic of the synthesized audio and at points its subtle sense of yearning or melancholia keeps When Haro Met Sally at a remove from being a purely overly rose tinted or even twee exercise in 1980s nostalgia and recreation.

Connected to which, in terms of reflecting on the realities of life, an important and vital part of the above mentioned cycle of John Hughes' films prevents them from being rote reflections on teenage life; i.e. their consideration of the impact of social class and economic privilege, or lack of, on life choices, options and relationships.
Although not overtly political and more concerned with universal rather than topical themes, the above mentioned cycle of John Hughes' films were created during a period of heightened apocalyptic Cold War tensions, alongside economic, social and political conflict, tensions and struggles between different belief and value systems (in particular between the more individualistic and materialistic orientated new right and an older more social welfare orientated left).
While often being and intended to be more purely entertainment orientated, contemporary 1980s referencing/set film and television such as the mainstream American comedy The Goldbergs (2013-) generally overlook such aspects of the period and John Hughes' work from the time, which they also often draw from.
Although intriguingly in The Goldbergs there is an episode which focuses on the Cold War dread and post-apocalyptic grimness of 1983 television film The Day After and one brief overt acknowledgement of social/economic status when it is mentioned that the children of the family featured in the series go to private school but these are relatively solitary mentions or acknowledgements of such topics in over 100 episodes.

To a degree the likes of J. J. Abrams film Super 8 (2011) and Netflix television series Stranger Things (2016-) show a darker tinged reimagining or recreation of the 1980s with their sense of plucky teenagers coming together to fight super/preternatural or extra terrestrial forces. Although in this sense they may be nearer, in terms of a connection to films made in the 1980s, to the more comforting family film orientated science fiction fantasy escapism of E.T. (1982) where youngsters battle to save a stranded alien than the real world Cold War orientated WarGames (1983) where they attempt to prevent a computer initiated global conflict.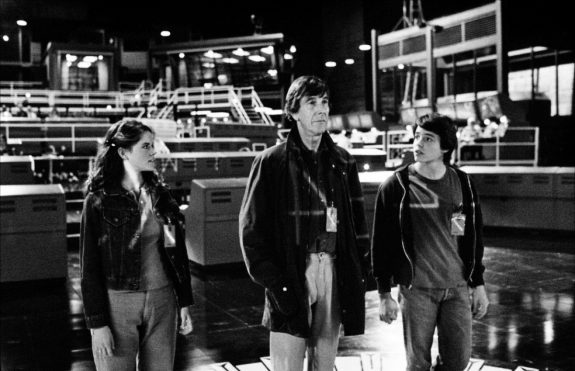 Returning to Luke Insect's work and reimagining of times past, in 2013 he collaborated as Dark Seed with Richard Norris of The Grid on an imaginary soundtrack release called Nocturnes.

In a similar way that Panos Cosmatos' film Beyond the Black Rainbow has a sense of being a lost artifact from the shelves of a 1980s video store and creates a neo-psychedelic "Reagan era fever dream" atmosphere, the artwork for Nocturnes conjures a similar fever dream-esque sense of a 1970s science fiction film or television series.
At the start of this post I wrote about "traditional" hauntology, synthwave, hypnagogic pop and When Haro Met Sally creating reimagined parallel world versions of their source material's eras – a description which could equally apply to Nocturnes and Beyond the Black Rainbow.
It could possibly be the soundtrack and artwork for the pilot of a further flung cousin of Space 1999 that was never broadcast because it was considered too out-there for mainstream audiences. Having said which Space 1999 did often have quite odd psychedelic and dreamlike atmosphere, plots and imagery.

Connected to neo-psychedelic aesethetics, Luke Insect's design work often utilises psychedelic-like imagery, filtered through a contemporary lens to create work which is not purely a retro retreading but again more a reimagining – some of examples of which are above.
Which again brings me back to "traditional" hauntology and its parallel worlds, in particular some of Julian House's work for Ghost Box Records which often have more than a tinge of reimagined psychedelia to them, something which is referred to at Ghost Box's website, which describes it as:
"…a record label for a group of artists exploring the misremembered musical history of a parallel world. A world of TV soundtracks, vintage electronics, folk song, psychedelia, ghostly pop, supernatural stories and folklore."
The use of the word "ghostly" in the above description seems somewhat appropriate for much of the cultural reimagining mentioned in this post; another word often used in conjunction with hauntology is spectres or spectral.
In various ways the likes of When Haro Met Sally, Beyond the Black Rainbow, Nocturnes and the work of Ghost Box Records could be seen as spectral cultural will o'the wisp versions of their source material – parallel world reimagined phantasms.
Elsewhere:
Elsewhere at A Year In The Country: