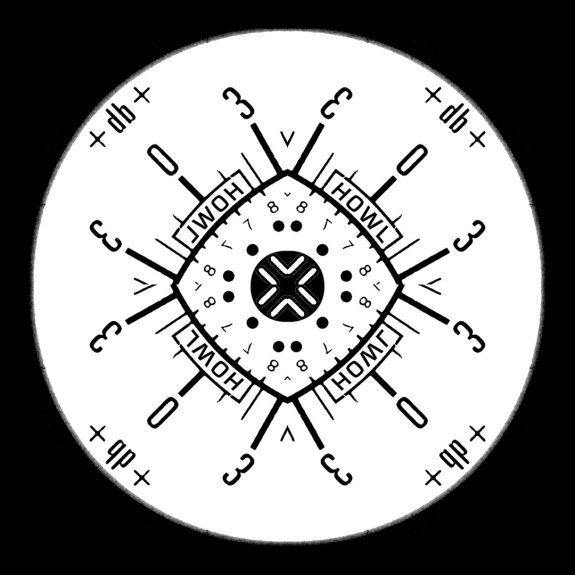 Artwork by Robin The Fog for Howlround's Torridon Gate album.
"All of the music on this album was created from a single recording of a front garden gate on Torridon Road in Hither Green, London. These sounds were captured using a contact microphone and processed, looped and edited on three reel-to-reel tape machines with all electronic effects or artificial reverb strictly forbidden." (Quoted from Howlround.)
"23 minutes of spectral splendour made entirely out of sounds produced from a garden gate!… An amazing achievement, sort of like the missing link between Ekoplekz and On Land, or Stahlmusik gaseously expanded into Kosmische Musik." (Quoted from a review by Simon Reynolds at Blissblog.)
"Whilst the BBC's Radiophonic Workshop are often (justifiably) name-checked in relation to Howlround, Torridon Gate's obvious predecessor is Pierre Henry's Variations Pour une Porte et un Soupir (1963). Maurice Béjart created a ballet based on it… Howlround's recording succeeds by obfuscating the source, rendering the 'real' unreal and transforming the ordinary into an other-worldly phenomenon. The simple metal gate becomes a portal to…the spirit world of inanimate objects? Or can we hear the ghosts of all those who have passed through 'the gate' to life beyond this one we know? The gate as metaphor…if you like. Wherever your imagination takes you, Torridon Gate is an urban source response to the dark moors and haunted woods mythology of modern folklorist music-makers. In that sense, it is more 'homely', but the resulting sounds take you very far away indeed." (Quoted from a review by Robin Tomens at Include Me Out.)
More details on Torridon Gate here and at Bandcamp here.
Visit Howlround's site here and Robin The Fog's site here.
Elsewhere at A Year In The Country: