Part 4 of a set of posts which explore various aspects and offshoots of Brutalist architecture. (Visit Part 1 here, Part 2 here and Part 3 here.)
In this post I return to one of their starting points; Peter Chadwick's book This Brutal World, which is a collection of the photographs he has taken of Brutalist architecture.
The variety and experimentation of much of the architecture in This Brutal World indicates the degree to which the use of concrete as a building structure allows for freedom and expression in terms of architectural shape and form. It could be compared to the use of rubber as a fabric with which to make clothes; there have been a number of fantastical outfits created using rubber but while they may be structurally explorative and very striking as extreme club/fashion wear and/or as futuristic/outlandish costume in film and television, for day-to-day use it is more than a little impractical.
Along which lines I once visited an undergraduate degree show and viewed the scale models for buildings designed by architecture students. A number of their models were so intricate, experimental and avant-garde in design that they could only be viably created via contemporary digital 3D printing techniques – something which is analogous with the malleability of concrete as a building material. The designs for buildings were often intriguing and beautiful but as with the images in This Brutal World they often appeared closer to abstract art projects than places to live and work.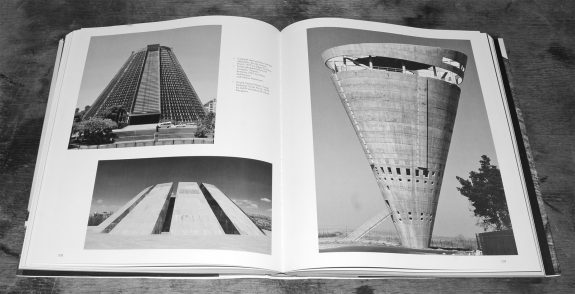 Connected to which the structures pictured in This Brutal World, while they may have been quite practical in real world terms, the non-conventional and at times almost science fiction-esque aspects of their design sometimes imparts a similar sense of seeming nearer to projects that have allowed for the creative expression of their architects rather than having day-to-day human needs in mind, something which is indirectly referred to in the following quote which is featured in the book:
"It's an incredibly muscular use of concrete. It's not built, it's cast. You can't have something more like sculpture in architecture than [the Hayward Gallery]." Anthony Gormley.
This aspect of the structures is heightened in the book by the considerable number of quotes which accompany the photographs and which often talk about an appreciation of Brutalist architecture in an abstract sense and from philosophical, creative and aesthetic viewpoints.
Although possibly not intended as a negative viewpoint, the sense of a remove from human needs and the more abstract, utopian aspects of Brutalist architecture is also (possibly unintentionally) implied in the following quote by architect and writer Jack Self, which is also featured in This Brutal World:
"The Brutalist citizen has to be understood as an abstract egalitarian ideal, not as an individual lost in a microscopic concrete cave of some gargantuan building."
In this sense This Brutal World and similar appreciations of Brutalist architecture could also be considered to be at times akin to Paul Virilio's photographs of abandoned concrete Second World War military bunkers in his book Bunker Archaeology (1976); there is at times a form of harsh beauty present in such images but it is at a remove from the realities of the structures.
Elsewhere:
This Brutal World
Paul Virilio's Bunker Archaeology
Elsewhere at A Year In The Country:
Reflections on Brutalism Part 1 – This Brutal World and a Study of The Shape of the Futures Past: Wanderings 14/52
Reflections on Brutalism Part 2 – This Brutal World, Industrial Inspirations for Blade Runner, Memories of the Space Age and the Future Takes a Tumble: Wanderings 15/52
Reflections on Brutalism Part 3 – J. G. Ballard and Ben Wheatley's High-Rise and All Mod Con Dystopias: Wanderings 16/52
Reflections on Brutalism Part 3 – J. G. Ballard and Ben Wheatley's High-Rise and All Mod Con Dystopias: Wanderings 16/52
The Quietened Bunker, Waiting for the End of the World, Subterranea Britannica, Bunker Archaeology and The Delaware Road – Ghosts, Havens and Curious Repurposings Beneath our Feet: Chapter 17 Book Images