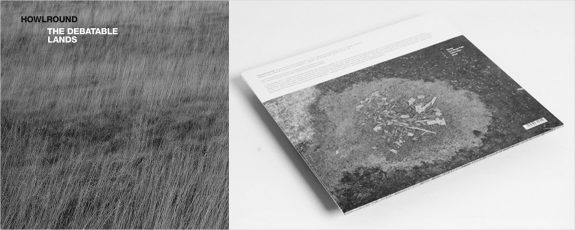 Something of a round-up of some of the flipside and undercurrents of music released in the last year or so that has caught my ear and eye…
First up is The Debatable Lands, the sixth studio album from tape-wranglers Howlround… well, strictly speaking I suppose it was recorded in a form of improvised home studio:
"In December 2017, Howlround (Robin the Fog) was invited to perform at "The Winter Solstice Soundscapes" event for the recently opened record store "Vinyl Café" in his home town of Carlisle, Cumbria. Inspired by the reception to his first ever performance in the great border city, he covered his parent's dining room table with the same equipment, stretched loops of tape around his mum's seasonal candlesticks when she wasn't looking… and this LP is the result. The only equipment used on the album is two 1/4" reel-to-reel tape machines and one microphone. The sounds created are entirely at the discretion of the machines (much of them derived from 'closed-input' recordings) and all tracks were produced in a single take. There are no edits, no overdubs and no additional effects."
The method of recording brings to mind tales of Delia Derbyshire running tape loops round the corridors of the BBC Radiophonic Workshop after most people had gone home, which seems a rather appropriate line of connection considering that Howlround's first album The Ghosts of Bush was in part a tribute to Bush House, the now closed previous home for the BBC's World Service and also the way in which Howlround's recording techniques could be considered part of a lineage that connects back to the experiments of the BBC Radiophonic Workshop.
In comparison with some earlier work The Debatable Lands features quite a heavy take on the Howlround sound, which at times brings to mind a form of accidental hazy pulsating and almost gabba-like techno (or "tapeloop techno" to use a phrase from the Howlround site). That sense of gabba-like tapeloop techno is particularly present on the track Black Path which with its crunching distorted industrial-esque beats could well have been found on an unmarked white label 12″ bought from the "Fringe & Experimental" section of an independent dance music record shop in London's Soho a decade or two ago and which has mysteriously resurfaced via Howlround's tape wrangling and channeling of recordings' lost and hidden echoes on this album.
Details on the album can be found at Howlround's site and at the Touch Shop.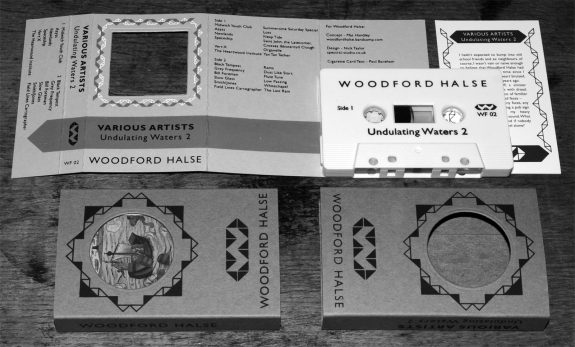 Next up are the compilations Undulating Waters 1 and 2, released by Woodford Halse, which is a project created by Mat Handley who broadcasts the radio show You, the Night & the Music and releases music as Pulselovers.
The two cassette and digital album releases could be considered a physical embodiment of the eclectic selections in the radio show and includes the flipside, undercurrents and sometimes hauntologically spectral sides of electronic, psychedelic, experimental and folk music.
The albums are beautifully packaged and there is a sense of them being a particular labour of love; the slip cases are individually screen printed, die cut and indented, while the inner j-card is also indented and has a die cut "window" through which you can see the included collector's card.
Pulselovers have had a number of tracks on the A Year In The Country music releases and there is a further crossover with the Undulating Waters albums as they also feature various other contributors to the AYITC albums, including the likes of Spaceship, The Heartwood Institute, Polypores, Grey Frequency, Time Attendant and Field Lines Cartographer. These are joined by amongst others Revbjelde, Pictogram, House of Daggers, Floodlights, 62 Miles From Space, Boll Foreman, Panamint Manse and Midwich Youth Club, with design by Nick Taylor of Spectral Studio.
The collector's cards also feature text by Paul Bareham, which are short pieces of intriguing and enigmatic fiction that bring to mind the imaginary landscapes of Hookland and Rob Young's swirling dreamscape fictional writing which was included in Belbury Poly's album The Belbury Tales.

"Trading under the name Woodford Halse, this new adventure into sound perfectly compliments the shows musical ethic / remit in so much as casting a deserving searchlight upon the secretive crooks and crannies of the expansive labyrinth of so sounds stationed on the outer edges of the various electronic / kosmische / psychedelic spectrums. As to the sounds, well pretty much keeping in with the retro / futuro vibe so in common with the likes of ghost box, café kaput, a year in the country, castles in space and of course, polytechnic youth, to name but a few. One for late night attention methinks, 'Undulating Waters I' features twelve tracks gathered here for your discerning listening ear, a few names familiar a few not so, guaranteed a little something for all…" (Quoted from a review by Mark Barton, writing at The Sunday Experience).
If you should appreciate the releases by the likes of Ghost Box Records, Castles In Space, Polytechnic Youth etc which are mentioned in the above text by Mark Barton then I expect you will find much to enjoy in these Woodford Halse releases. Or just if you enjoy wandering through the undercurrents and "crooks and crannies" of contemporary music while also appreciating creative album packaging and design as you explore.
Visit Undulating Waters 1 and 2 at the Woodford Halse Bandcamp page here. Visit the You, the Night & the Music radio show's archive here, Pulselovers Bandcamp page here and The Sunday Experience reviews of the albums here and here.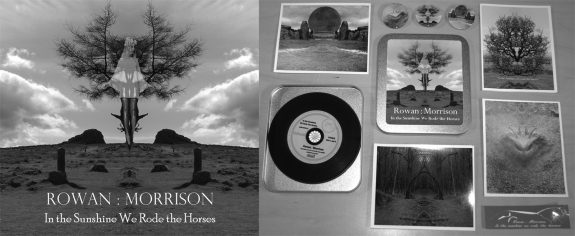 Then we have Rowan : Morrison's album In The Sunshine We Rode The Horses.
This is an album of rather lovely what could loosely be called acid or psych folk. It is not purely a retro retreading but brings to mind in part a sense of being a recently unearthed privately pressed folk album from some undefined point possibly in the very late 1960s or during the 1970s, tracks from which might be featured on the compilation album Early Morning Hush: Notes From the Folk Underground 1969-76, which collected such things or filed alongside the likes of the privately pressed 1970s folk albums Shide & Acorn's Under The Tree and Oberon's A Midsummer Night's Dream:
"…this is a beautifully packaged yet somehow understated album destined, it seems, for 'lost classic' status, to be rediscovered and cherished by generations of pilgrims on the old straight track. Somehow we think they would approve." (Quoted from a review of In The Sunshine We Rode The Horses at Terrascope).
Released by Miller Sounds the album is a themed concept album, the narrative of which:
"…takes a snapshot of an imagined history of the land. It explores the conflict taking place at the same area (The Ridgeway) through time periods between the land and man with their developing technologies. These events take place throughout time, from pre-history through to the near-future. In a very 1970s 'Play for Today' sort of way, they start to bleed into each other as over time, the earth begins to enter a period of hibernation to heal itself from the destruction wrought upon it." (Quoted from the album's accompanying notes.)
The mention of A Play For Today in the album's notes provides a line of connection with The Book of the Lost that was co-created by Rowan, working as Rowan Amber Mill with Emily Jones, which is also a themed concept album, taking as its inspiration an imagined set of lost folk horror movies and which was an early reference point for A Year In The Country's own wanderings.
Visit Rowan : Morrison here, The Rowan Amber Mill here, The Book of the Lost here, Miller Sounds here and the Terrascope review here.

And finally there is Grey Frequency's fourth full length album release Ufology.
It is described as "an audio exploration of British UFO sightings from the second half of the twentieth century" and each piece "focuses on a specific encounter from UFO folklore and reinterprets it as an excursion in unsettling sound and atmosphere".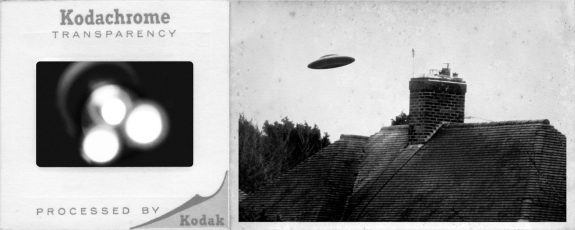 The album's focusing on UFO encounters from previous decades, the use of the phrase "UFO folklore" and the images of period suburbia and UFO sightings on vintage film stock/slide mounts that accompany Ufology seem to connect it with a hazy hauntological long-ago and now semi-forgotten sense of previous decade's interest in such phenomena.
In part the album could be seen to connect with a heightened interest in unexplained, super and preternatural phenomena during the 1970s in sections of society and accompanying coverage in the mainstream media, press, book publishing etc. This is a period Ufology at times draws from as one track mentions 1977 in its title, while The Dechmont Woods Encounter appears to refer to a UFO incident in 1979, although the album also takes its inspiration from events ranging from the 1950s until at least the 1980s.
The album can serve as something of an intriguing semi-obscured signposting to events which have become part of British UFO folklore, as searching for events that inspired it such as the track "You Will Improve Or Disappear" leads to the likes of a "British Roswell" where a small metal disc was discovered on Silpho Moor in 1957 and which some thought was of extra-terrestrial origin. It was alleged to have contained copper sheets with hieroglyphic markings, part of which was translated as meaning "You Will Improve Or Disappear" – hence  I assume the track title on the Ufology album.
Those who believed in its extra-terrestrial origins included Air Chief Marshal Lord Dowding, who apparently had an on ongoing belief that the object was extra-terrestrial and said he had personally examined it in 1959 and found it to be a "miniature flying saucer".
Thought by the UFO community to have been lost or deliberately scrapped, in 2018 sections of the disc were found to have been stored at the British Museum.
The tracks on Ufology are built from "lo-fi drones, dark ambient textures, and cassette-looped field recordings" and as with much of Grey Frequency's work they have both an experimental and accessible quality.
I was particularly taken by The Dechmont Woods Encounter, in which undefined mechanical creakings and vaguely Forbidden Planet-esque noises link into subtly ominous pulsing sounds which seem to imply the approach of extra-terrestrial abductors, which are said by the man who reported it to have been part of the UFO event that inspired the track, before it segues into an "after the event" almost restful or drifting end section.
Available on cassette and digitally, Grey Frequency's Ufology can be found at their Bandcamp page here.
As something of a postscript, the above gathering of albums reminds me of something Kim Harten wrote at Bliss Aquamarine when reviewing the A Year In The Country released album The Corn Mother, of which she said:
"(On the album) the apparently disparate genres of folk music and experimental electronica sit perfectly well together as different expressions of the same basic idea."
Further "Audio Undercurrents" will be explored in in Part 2 of this post…
Elsewhere at A Year In The Country: