It seems like there's something of a spectral summer a-coming in (or "is icumen in")…
First up in this gathering of such things is the A Midsummer Night's Happening on 21st June 2019 at The state51 Factory in London, an event which is described as "a solstice celebration hosted by state51, Ghost Box and Trunk Records", that will take place across three themed interiors called Pan's Garden, The Youth Club and The TV Chamber. It features the likes of:
1) Justin Hopper and Sharron Kraus performing their album Chanctonbury Rings, which is based around Hopper's book The Old Weird Albion. (The album also features Belbury Poly and will be released on 21st June by Ghost Box Records.)
2) The Kirchin Tape Lab, which will include Trunk Records' Jonny Trunk and his OST radio show co-host Robin The Fog (aka Radiophonic-esque tape manipulator Howlround), who will be playing live tape reels from the unheard archive of composer and music experimenter/boundary pusher Basil Kirchin.
(As an aside when Basil Kirchin experimented with slowing down recordings he described it as revealing "Little boulders of sound" – which is a rather lovely turn of phrase.)
3) Soundcarriers performing an instrumental live soundtrack to a film by Ghost Box Records' Julian House.
4) An exhibition by Frances Castle of Clay Pipe Music.
5) Wisbey, who will be asking the audience to request their favourite soundtracks, which apparently he will then perform on a home organ, in what sounds like something of a human jukebox manner.
And a fair bit more from DJ sets to The Mangle's "print your own event tshirt" facilities, a state51 shop, food etc. Blimey.
I'm not sure but I think the event may take its name from Sally and Mike "Tubular Bells" Oldfield's track "Midsummer Night's Happening" on their acid/psych folk 1968 album Children of the Sun (it also brings to mind the rare 1971 acid/psych folk album A Midsummer's Night Dream album by Oberon). The "happening" is sold out already I'm afraid though.
(Left-right: upcoming 2019 Weirdshire events, the cover to the Weirdshire album, Weirdshire events in 2018.)
Next up is a series of events from Weirdshire at Babar Cafe in Herefordshire and which take place between June and August. These feature performers who often work amongst the flipside and undercurrents of folk and include Sharron Kraus and Kitchen Cynics, United Bible Studies, C. Joynes, Sproatly Smith and Burd Ellen, alongside vinyl selections from jus'jay and Sproatly Smith (the events are also curated/hosted by Sproatly Smith).
(Left-right: the cover of the Weirdlore album, Weirdshire Weekend poster from 2015, Sproatly Smith poster from 2016.)
The Weirdshire events connect with the cancelled Weirdlore festival from 2012 (and the accompanying album which was released by the sadly missed Folk Police Recordings); after that event was cancelled the first Weirdshire event took place at The Barrels in Hereford and was intended as an alternative to Weirdlore, with the resulting one day festival including some of the performers who were going to play at Weirdlore, alongside other invitees.
There have been a series of other Weirdshire events since then, including in 2018  the "International Psych Folk Festival", which featured  B'ee (In Gowan Ring), David Colohan, Sproatly Smith, Moongazing Hare, Kitchen Cynics, Trappist Afterland, David Ian Robers, Alula Down, OORT (Trans Neptunian Objects), Jacken Elswyth and Cath & Phil Tyler, alongside jus'jay DJ-ing again.
Weirdshire has also released the Beating the Bounds compilation, which features what is described as "weird/alt/psych folk from Herefordshire" and features a number of the performers from the Weirdshire events.
(As a further aside, reading about the Weirdshire events and line-ups conjures almost a sense of timeslip. They're contemporary but seem to have a direct line – or should that be portal? – back to acid and psych folk explorations of the earlier 1970s…)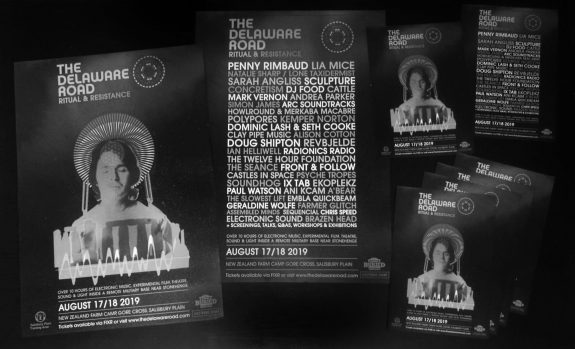 And then there is The Delaware Road: Ritual & Resistance festival on August 17th and 18th, which is hosted/curated by Buried Treasure Records and takes place in the far from conventional venue of "an austere military complex at New Zealand Farm near West Lavington". It is an event which I have mentioned around these parts before and as I said then the line-up for the festival draws from what could be called the confluence or intertwining between otherly pastoral and hauntological work.
It features something of a smorgasboard of artists, DJs, video producers, film makers, sound designers, record labels, guest speakers, writers and illustrators:
PENNY RIMBAUD (Crass), NATALIE SHARP / LONE TAXIDERMIST, ANDREA PARKER (Mo' Wax), LIA MICE, EKOPLEKZ, SOUNDHOG, FARMER GLITCH, IX TAB, ASSEMBLED MINDS, GERALDINE WOLFE, SEQUENCIAL, BRAZEN HEAD, DOMINIC LASH + SETH COOKE, PAUL WATSON, ANI KCAM, MARK VERNON, CATTLE, THE SEANCE (Pete Wiggs + Dem), FRONT & FOLLOW, KEMPER NORTON, THE SLOWEST LIFT, EMBLA QUICKBEAM, ARC SOUNDTRACKS, DJ FOOD (Ninja Tune), SARAH ANGLISS, CLAY PIPE MUSIC, SIMON JAMES, REVBJELDE, CASTLES IN SPACE, THE TWELVE HOUR FOUNDATION, CONCRETISM, POLYPORES, PSYCHE TROPES, SCULPTURE, HOWLROUND + MERKABA MACABRE, A'BEAR, DOUG SHIPTON (Finders Keepers), NICK TAYLOR, ALISON COTTON (Cardinal Fuzz), IAN HELLIWELL, RADIONICS RADIO, CHRIS SPEED VISUALS and THE INFINITE ATTIC LIGHT SHOW.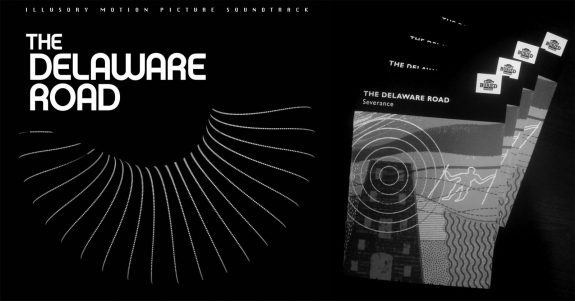 The Delaware Road: Ritual & Resistance event has offered a number of tempting extras to those who buy tickets, including the Nearest Neighbour graphic novel and cassette by audio video duo Sculpture, France's Castle of Clay Pipe Music's graphic novel and flexidisc Stagdale and Buried Treasure promo packs featuring CDs, vinyl and badges from the label.
(As a final and further aside the performances etc at the event are said to be "inspired by The Delaware Road narrative, landscape, myth, broadcast propaganda and the transformative nature of sound". The Delaware Road story appears to have as it's starting point The Delaware Road "illusory motion picture soundtrack" album, which is described as being an "occult thriller conspiracy" that will appeal to those who appreciate "archived electronica, far out jazz and haunted folk grooves". It has a theme based around; "London. 1968. Two pioneering electronic musicians discover a set of unusual recordings which leads to a revelation about their employer. Fascinated by the seemingly occult nature of the tapes they conduct a ritual that will alter their lives forever.")
Well, a busy old summer indeed.
Links:
Elsewhere at A Year In The Country: