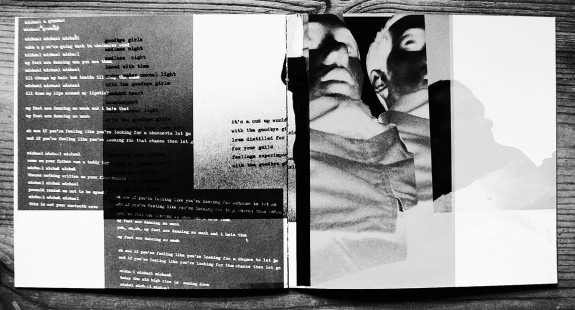 File under: Trails and Influences: Recent Explorations. Case #32/52.
I've been (pleasantly) slightly surprised and intrigued during this year in the country by just how much I've returned to the work and interconnections of Broadcast.
A fair few years ago now I bought their first full album when it first arrived on these shores and the shelves of bricks and mortar music encasement emporiums… I think I was given/sent the second album as part of previous days of spinning (and occasionally writing about) the platters that matter…
…and I'd always been aware of their work but hadn't overly closely observed it all those years ago.
However, looking back, the first time I consciously sat down (and spent the wee hours into the morning sifting and selecting) and broke open my zeros and ones coin collection to purchase a small number of cultural artifacts that related to this year… well, one of those was the  Broadcast and The Focus Group Investigate Witchcults of the Radio Age album. One of its few other companions was The Owl Service View From The Hill, alongside a touch of literature via Mr Jonny Trunk…
And in way those three items I expect bring together some of the strands that have had me intrigued and returning to the work of Broadcast over the years…
…which would be in part the hauntological re-imaginings and yearnings for lost pasts and futures (The Focus Group/Mr Julian House/Ghost Box Records), delving into folk/folklore/the old stories and using the resulting findings as source material for new journeys, alongside returning to hazy memories of cathode ray transmissions that have gained over the years/possessed a certain otherlyness (The Owl Service, in songsmith and visual/textual story forms)…
…and further delving, rummaging, connecting, sending out into the world small hordes of overlooked cultural treasure (Jonny Trunk/Trunk Records).
If I was to go back and write down all the cultural connections, touchstones and references from/to that have occurred around Broadcast during this journey, well this page would probably grow way past A Year In The Country's allotted sustenance and repast time.
As a first example of such connections, the extract to the left (from an interview with Broadcast, which is in the below mentioned issue of Wire), seems to be a possible antecedent/seedling/fellow traveller for Rob Young's idea of "imaginative time travel", that he uses to describe certain strands in music/culture in the pages his Electric Eden; see Day #4/365…
...and the to go on to a few more: the recalibrations required in order to adjust to the different pacing of those aforementioned hazy cathode ray transmissions (see Day #33/365), along the lines of The Owl Service, Sky, The Children Of The Stones etc…
…the "modernist, retro-futurological, hauntological psychedelia" issue of Shinding magazine that took in Broadcast's past, present and future, Ghost Box Records, Italian giallo film and its referencing/reimagining via Berberian Sound Studio, flickering stories from childhood's past courtesy of the Childrens Film Foundation (see Day #178/365)…
(As a second aside, considering the often lysergic themes of Shinding magazine, it would seem a fitting home or at least an inn for the night for Broadcast.)
…or indeed audiological and visual accompaniments for Berberian Sound Studio itself; see Day #153/365.)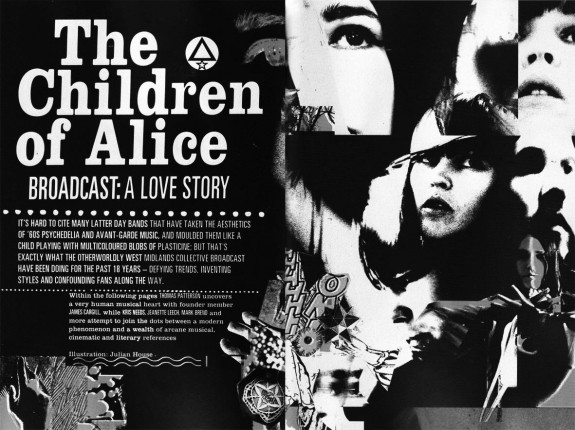 …and then flipping the pages backwards and forwards, it is but a hop, step and jump to return to the design work of Mr Julian House in those aforementioned oft lysergic pages (see above and Day #59/365)
…the wonderful, sometimes gloriously shambolic OST show and its musicological delvings – hosted by Mr Jonny Trunk and ably assisted by soundscape locative tape wrangler and splicer Robin The Fog, in particular their tribute re-transmitting of the Broadcast guested edition of the program (see also see Day #33/365)…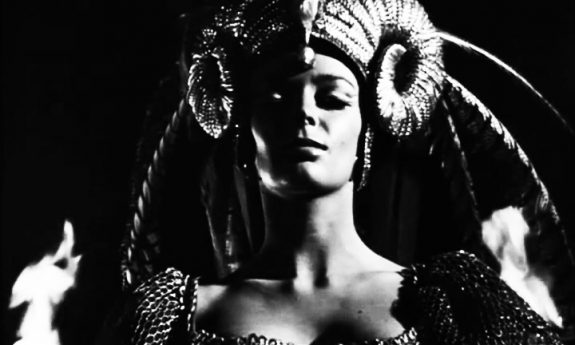 …the other imagined version of Curse Of The Crimson Altar, with a soundtrack presented and co-ordinated by Broadcast and their laying down of "sonic laws that break through the corrective systems of timing and keys" (see Day #184/365).
Which is but a few of the points of reference to the work of Broadcast and interconnected cohorts around these parts…
And while I'm on the subject, on this page are a selection of photographs of/from four of my favourite Broadcast/related cultural artifacts:
1) Magazine: Joseph Stannard's interview with Broadcast from when they were on the front of Wire magazine in 2009. This is a just lovely interview, I daren't even pick it up again right now as there are too many points of reference and pathways it sends me off on. Good stuff indeed.
(As an aside, I often find myself particularly drawn to Wire magazine when it is covering what could be considered non-populist or explorative pop music. As Trish Keenan considered, the avant-garde without the popular can be rubbish, popular without avant-garde can be rubbish – see Day #167/365, which could well be some kind of manifesto for Broadcast, one of our most avant-garde-ist pop(ular) music combos.)
And as an aside to the aside… even within a page on the reference points and pathways that Broadcast have appeared amongst/on during this year in the country, they are cropping up as further reference points.)
2) Book: sampler2 – art, pop and contemporary music graphics; I recently re-stumbled upon this on the shelves of a slightly tumbling/tumble-down bibliotheque almost corner shop… It made me wistful for a particular point in culture and years gone by, being a snapshot of the graphic work that accompanied audio releases just at the slightly abitarily selected point when a duo of a thousand years had passed in our collective history. It was a point just before the zeros and ones cable/airwave transmission of music began to fully take hold and the work contained within tends to veer towards designs to accompany abstract(ish) electronica and is often kind of lovely, slightly arch, slightly distant, deeply philosophic and also thoroughly surface orientated… all descriptions could well also describe much of the music as well as its visual accompaniments.
The book was put together by Intro, the "day job" graphical Imagineering company in which Mr Julian House of Ghost Box Records/The Focus Group is a partner and indeed he is one of the co-creators of this particular publication… and sat there, nestled away in amongst the pages is Broadcast and some of his early work for/with them.
They feel like the cuckoo in the nest in a way. A sneaking in and back through time.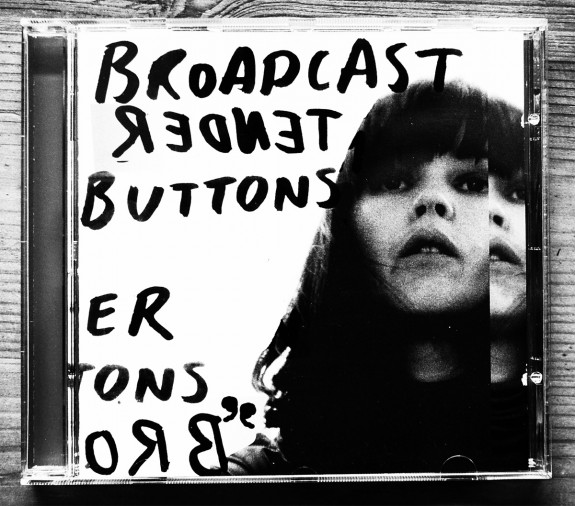 3) Recording: Tender Buttons. Well, what can I say? If I should be talking about non-populist, exploratory pop music, this is that.
It is resolutely pop music but… It is catchy, fractured, danceable to, heartbreaking, full of what could well be Burroughsian textual cut ups via the Black Country.
And it does features the "Michael, Michael, Michael… come on, your father was a teddy boy". Which just makes me shake my head and chuckle. It seems to sum up so, so much of the experience, nature, character and culture of these lands and lives. Probably one of the finest lines or two in English music.
(As another aside and in an interconnected manner, I thoroughly treasure Bob Stanley's line on Trish Keenan, in relation to appreciation of her/her work meaning that she was presented with a "wardrobe of fineries" by swanky fashion design folk; "…she might have had beans on toast for tea, but she was the best dressed girl in Birmingham" (discovered in his touching tribute, via the streams, brooks and tributaries of Caught By The River).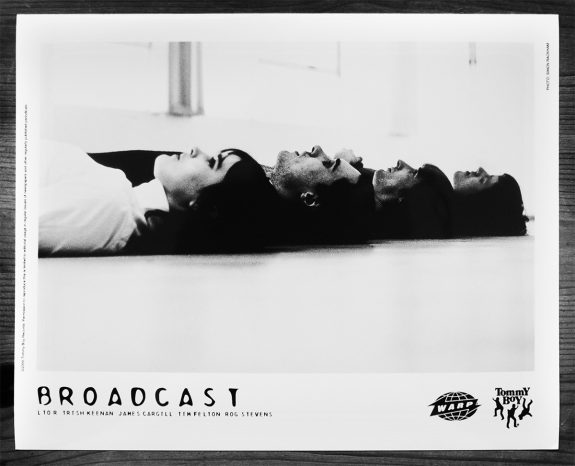 4) Visual document: And finally, this particular promotional photograph. Thoroughly modernist (not in the three button suit manner, the other kind of vaguely connected modernist) and makes me think of Alphaville (no, not the pop band, the other Alphaville). This is pop(ular) music and its accompanying imagery at some kind of peak of exploratory sharpness, playfulness and elswhereness (although I do tend to find the Tommy Boy logo a little perturbing).
Mark Fisher in Ghost Of My Life (see Day #163/365) talks about how it is the culture that surrounds and constellates around music that has been as important as the music itself in conjuring seductively unfamiliar worlds; that during the 20th century these gatherings of culture acted as a probe for such explorations and alternatives to existing ways of living and thinking.
I suppose that is much of the semi-conscious impetus for this page; Broadcast were/are a fine, brightly shining example of such constellations and constellators.
And so, with that, I shall leave such patterns and twinkling points of light (though I expect I shall turn my gaze towards and upwards in their direction again at some point).
So, a tip of the hat to Broadcast and all who have travelled with/alongside them.