Pulselovers' Cotswold Stone album is a rather lovely slice of gently hauntological pastorally inflected electronica (intertwined with more than a dash of traditional "organic" instrumentation). It draws from Mat Handley of Pulselovers personal and sometimes hazy memories, not so much in a hauntologically melancholic manner but rather in a reflectively reverential and playful way:
"A meditation on the passing of time and the persistence of memory and is, in part, a reflective work of familial dedication and reverence. When taken in a single sitting these soundscapes create a strong overarching narrative that take you on a journey through the rolling hillsides of England… This is a very personal album and is an attempt to preserve the memories of a happy childhood where along with siblings and cousins, I spent a lot of time in the Oxfordshire town of Burford in the mists of time… Many of the titles are taken from road signs of towns and villages in the surrounding countryside, some of which I never actually visited but the words themselves trigger unspecific memories from those long 70's summers: Cleeve Hill, Shipton-under-Wychwood, Bourton-on-the-Water, Stow-on-the-Wold, Bradwell Grove and Moreton-In-Marsh don't hold any particular place in my heart (though I do remember Bourton was a great place to feed the ducks and Auntie C's ramshackle Bradwell Grove cottage was situated within the grounds of the Cotswold Wildlife Park), but the words themselves silently echo throughout the album like vaguely familiar ghosts, like rain on hot tarmac or lavender on a summer breeze." (Quoted from text which accompanied the album's release.)
Reflecting the album's "attempt to preserve the memories of a happy childhood" Cotswold Stone often has a noticeably positive, upbeat atmosphere, where the arpeggiated sounds seem to be almost literally gambolling through the "rolling hillsides". However here and there something darker creeps through; "The Green Leaves Of Shildam Hall" seems to almost hark back to the soundtrack to some imagined affluent form of lounge living but at the end it segues into the sound of subtly unsettling birds crawing in the sky above.
While the driving, propulsive analogue techno sounds of penultimate track "Under Wychwood" could at times be a club orientated remix of the soundtrack to a parallel world Public Information Film that you can't quite remember which warned children away from the candy walled house in the forest (!)
But bucolic memories and calm are returned to in final track "On The Wold", which interweaves soothing pastoral folk-ish melodies with an ongoing relaxed and impressive guitar solo that somewhat fittingly recalls, recreates and reimagines the guitar heroes on an album your older brother may well have listened to once upon a time.
Released on Castles in Space, the album is beautifully packaged in a manner which accompanies that sense of a hazy time back when. Designed by Nick Taylor of Spectral Studio it was released on distinctive "Heath and Marsh" coloured vinyl, and included an original 1970 Royal Mail Cotswold Limestone Stamp from the British Rural Architecture series.

Just prior to the album being released, Castles in Space released a limited edition lathe cut single, the first track of which, that is not on the album, is called "On The Green" and could be considered to form a three song suite with "In The Marsh" and "On The Heath" from Cotswold Stone. "On The Green" is accompanied on the single by a remix of the album's "In The Marsh" by Panamint Manse, which gently reinterprets the original through a filter of sometimes skittering, almost morse code like pulses and tape wobble.
(As an aside it's nice to see a physical single preempting and signalling the upcoming release of an album, something which once was common but now seems somewhat rare.)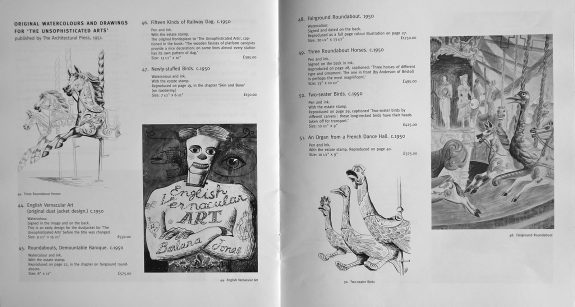 The period cover image is of a folk art-esque ornamental horse, cart and plant basket stood alongside, but apart from, parked cars and stylistically it would not be out-of-place in Barbara Jones' The Unsophisticated Arts book where she documented day-to-day folk art from fairgrounds, high street shops, seaside piers, amusement arcades etc in 1940s Britain.
This is accompanied on the sleeve by concentric wistfully nostalgic textures that are subtly reminiscent of William Morris' work. The insert features carefully torn and layered images; a vintage photograph of an older couple (Mat Handley of Pulselovers' family?), a local crest, a Cotswold limestone stamp and postal ink stamps, reassuringly familiar seeming and sometimes gnomic patterns, tourist orientated text and a plant life illustration from a previous era.
The overall effect makes it seem as though it could well be a long-lost album that you might once have stumbled upon back in the 1970s, in a bric-a-brac shop in a bucolic small town or village that inspired the album…
And if you did stumble upon it there you may well keep on discovering once you arrived home as alongside the above mentioned original stamp there is also a Castles in Space label promo postcard, a sealed and stamped envelope which contains Side A and a Side B badges that use the artwork from the vinyl's label, and in some copies a vintage photograph (postcard?).
The vinyl edition of the album is now sold out but it is still available digitally at Pulselover's Bandcamp page.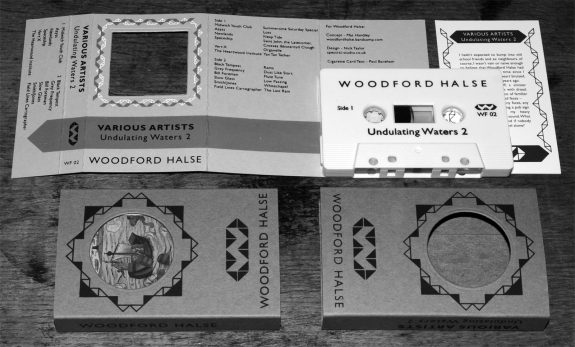 A couple of other links to Mat Handley of Pulselovers' work; his Woodford Halse project which has featured work by amongst others Grey Frequency, Time Attendant, Revbjelde, the aforementioned Panamint Manse, Polypores, Field Lines Cartographer, Widow's Weeds, Kitchen Cynics, Folclore Impressionista and The Twelve Hour Foundation can be found here and the Mixcloud archive of his rather fine but no longer broadcasting radio show You, the Night & the Music can be found here.

Castles in Space's Bandcamp page can be found here and is well worth a visit. As with Cotswold Stone their releases tend to be rather beautifully designed and packaged and often explore various realms and aspects of the more spectral, hauntological side of electronica. Their releases have included work by / collaborated on by amongst others Drew Mulholland, Panamint Manse, The Soulless Party (including further explorations of the mist hazed myths of The Black Meadow), Polypores, The Central Office of Information, The Twelve Hour Foundation, Concretism and Keith Seatman.

Castles in Space also released the Scarred for Life: The Album charity fund-raising compilation which is inspired by the unsettling televisual sounds of childhoods gone by, and features some of the aforementioned artists released by Castles in Space alongside Vic Mars, The Home Current, Quimper, Listening Center etc. Below is some of the text from Bob Fischer's (of the Fortean Times' and his own website The Haunted Generation) review of the album in Electronic Sound:
"Kev 'The Soulless Party' Oyston has assembled luminaries from the hauntological world to produce material inspired by their own jumbled memories of the era for an accompanying album… Cult of Wedge contribute 'The Gamma Children', clearly the theme to some long-lost, spooky HTV series… Pulselovers' wistful 'Nice View From Up Here' is an homage to legendary Public Information Film stalwarts Joe and Petunia… Vic Mars' 'The Time Menders' is a bombastic Farfisa-drenched nod to 'Sapphire & Steel'… The Central Office of Information contribute 'Puzzled' which sounds for all the world like the theme to some forgotten, pre-teatime BBC One quiz show: I defy anyone over the age of 40 to hear it without picturing cheering cub scouts, BBC Micro graphics, and Richard Stilgoe in a pastel-shaded sweatshirt… [and] early synth enthusiast Carl Matthews'… wonderfully melancholy piece; a delightful analogue-sounding recording from a man who blazed a trail as a pioneer of the original era of cassette-based DIY electronica… Elsewhere Keith Seatman, Polypores, The Home Current and The Heartwood Institute join the fun… and terrific fun it is, too."
The album accompanies the book Scarred For Life: Volume One, that explored the darker side of pop culture in the 1970s, from Public Information Films to curiously challenging and scary children's television dramas via the boom in paranormal paraphernalia and much more.

Both pressings of the CD are now sold out but the album is still available digitally at the Scarred for Life Bandcamp page. The Scarred For Life book is available at Lulu.
Links:
Elsewhere at A Year In The Country: