File under: Trails and Influences: Touchstones. Case #30/52.
For a fair old while a selection of images/collages from an old educational magazine that I came across have intrigued and hung around my mind. Particularly the image below…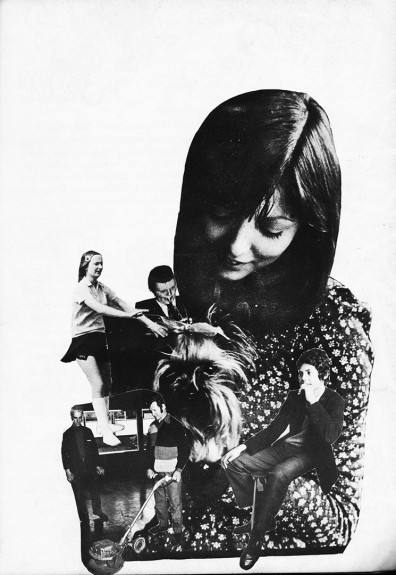 I wasn't quite sure why but I think in large part it's because they seemed to be defined/capture some kind of essence of what could be called hauntological design, although they were created a good while before such things came to have a (non-genre?) label applied to them. There is something about the unpolished collaging that draws me in…
What do I mean by hauntological design? Well, that would be difficult to precisely sum up what that means (although if you head towards a particular deletion of spectres you may well find a few signifiers of such things) but a good starting point would be the work of Julian House, particularly around his Ghost Box Record label/Focus Group recordings. Which leads me to…
In Jospeph Stannard's fine & full of pathways to wander down and explore, interview with/article on Broadcast (perusable via the ether or printed and bound sheet archives of a certain Wire Magazine here) he talks of how the Broadcast and The Focus Group's Investigate Witchcults Of The Radio Age album was:
"…assembled using a sampling method which makes a virtue of its imperfection. House (Julian of Ghostbox Records/The Focus Group) evidently delights in the inexact fit, the abrupt cut, and for the most part, the rhythms on Witch Cults are irregular, giddily tripping over themselves and each other. In drawing attention to the awkwardness of each edit, House does not demystify the art of sampling so much as emphasise its position at the intersection of magic and science…"
Hmmm. Abrupt cuts, inexact fits and showing the seams of art and technique? The scalpel/ferrous tapes or the zeros and ones audio/visual editing device? Intentions and the unintended…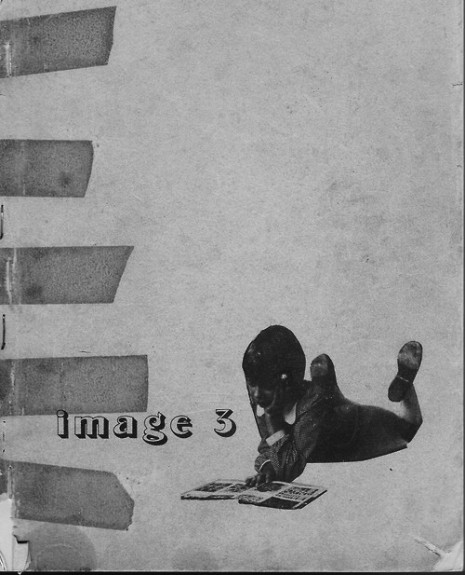 If you take magic in the sense of one its adjective uses, ie being particularly effective in producing desired results, in much of hauntological related work one of the intentions could be seen to be a fracturing of time, a recalling of the past in the present and looking ahead to futures that never were, a blurring, indistincting and reimagining of now, then, reality, memory…
And so work which shows its seams, inadvertently or otherwise, could be seen to have the intention/results of working towards such fracturing and related effects. Along which lines…
"House is a fan of the inadvertent avant-gardness of 'bad' or 'clunky' design, as seen in Polish movie posters of library music sleeves. He intentionally achieves similar effects through "bad looping, looped samples that change their start and end points. With visual collage there's a way in which images that are cut out 'badly', maybe with bits of their background or surrounding image, make it difficult to discern where on part of the collage begins and another ends. This trompe l'oeil effect (a visual illusion) brings you deeper into the collage, confuses your ability to discern images as surface"…"
(From Simon Reynolds article Haunted Audio, also viewable via the aforementioned archive but slightly to one side here.)
That inexactly cut-out, lack of technical perfection is very present in these images from the school magazine, whether deliberately or through lack of expertise/technology/time etc and as I mentioned earlier is part of what draws me to them; in the space allowed by a potentially utilitarian cultural artifact, something else has happened…
Along which lines (see also here)…
They also reminded me of images which accompany the David Cain/Ronald Duncan album Seasons (educationally intended but playfully/unsettlingly avant-garde in arrival – see Day #125/365), which apparently has been something of an influence on the world and work of Ghost Box Records and some of its fellow travellers/instigators:
(Left: the educational magazine, right: imagery from Seasons.)
…which leads me to a returning theme of culture sometimes influencing future work (see Days #235/365 and #149/365) in a way that can't necessarily be explained by people having definitely seen the earlier pieces. Along which lines I shall (almost) leave this page with the two images below, separated by decades/intentions(?) but sharing something of a similar spirit.
(Left: recently contemporary spectral investigations, right: antecedent educational illustrations right.)
The images from the magazine were discovered via Starry Stillness and the somewhat appropriately named The Chemistry Set, which in turn were discovered via that rare thing in todays days, a bricks and mortar haven for music of an explorative nature, independent publications and acres of other reading matter, Rare and Racy. Well worth a visit if you should be around the once city of steel.
Earlier investigations of investigations here and another well-worth-a-visit related bound sheets here.
Otherly geometries and spectral notes: signals and signposts from Mr Julian House #1 and #2. A song and a parish circular from a nearby village.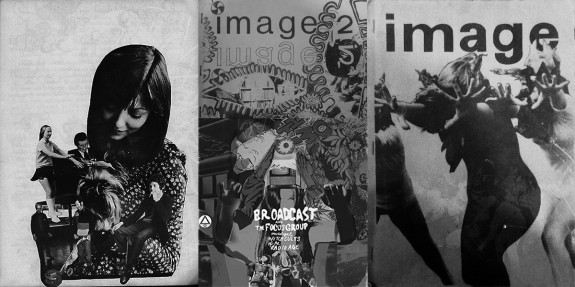 Interfaces between the old ways/cathode rays.
The writers of the aforementioned archival material: A not too-distant church and sometimes visitor of cultural incorporealities.
In the spaces allowed by potentially utilitarian cultural artifacts, something else has happened.
PS The magazine is from 1972-73, curiously and appropriately enough, a time that I seem to be repeatedly drawn to and visit/revisit the cultural artifacts from: 1 / 2 / 3 / 4 / 5 etc.